Belgian Delights was the first and still is the market leader in manufacturing small personalised foil wrapped chocolates in Australia.
The personalised Napolitain chocolates are made using only our own chocolate, conched in-house by our Belgian born and trained chocolatiers. They are first foil wrapped and then a paper label is folded around the chocolate. On the label we professionally print a full colour design or logo to your liking.
Minimum order quantities start at 600 pieces with a production capacity in excess of 40,000 pieces per day. Clients using our Napolitains include; hotels, retailers, corporate companies, beauty salons, restaurants, hairdressers, wedding venues, coffee shops and many more.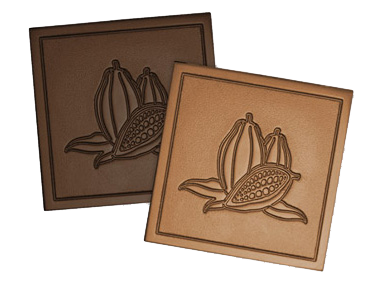 CHOOSE YOUR CHOCOLATE
The Napolitains are moulded with our own Belgian Delights chocolate, you can choose from milk or dark chocolate.
> Gluten Free
> GMO Free
> Real Chocolate - 100% Cocoa Butter & Mass
> Net Weight 6g
> Size 33 x 33 x 5mm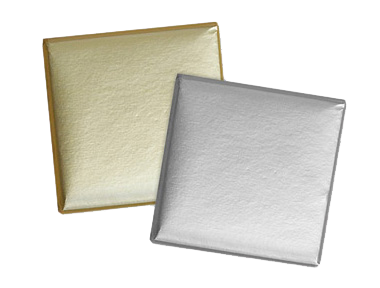 FOIL COLOUR
They are wrapped in foil, you can pick either silver or gold foil.
> Matt finish
> Paper backed aluminium foil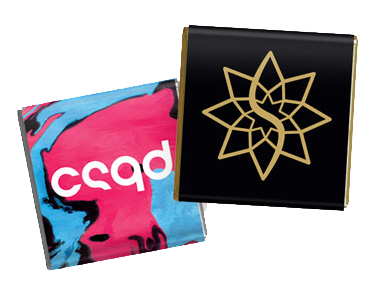 YOUR LABEL DESIGN
We help design your label that will be wrapped around the Napolitain chocolate. Price includes:
> Label setup and design
> Professional print using Heidelberg offset printing press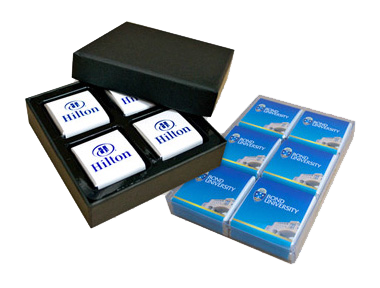 PACKAGING
Your own Napolitain chocolates are moulded and wrapped with your personalised label, to then be packed in bulk cartons or optional stylish gift boxes.
> Standard bulk packaging - 300pcs per box
> Optional gift packaging (ask us for pricing)
Start creating your own custom wrapped squares today!
LOOKING FOR SOMETHING BIGGER?
We also specialise in manufacturing personalised wrapper chocolate bars!
FIND OUT MORE